Quinoa Stuffed Bell Peppers
You won't believe how easy these stuffed peppers are! I whipped them up super quickly when Caleb came home from lunch one day, and we had nothing prepped. It was last minute, but it's for sure going to be on repeat, especially because it's such an easy way to get some veggies in! Also, you may notice that I'm using a ton of Kirkland products. As much as I wish I could say that this post is sponsored by Costco... It's not. But a girl can dream, right?
You can also easily make this dish vegetarian by substituting the ground beef with firm tofu or tempeh. You can also substitute ground beef with ground turkey or ground chicken if you're watching your red meat consumption. But substitutions aside, this dish is gluten-free and delicious no matter how you make it!
The best part about this meal is that it only takes ~40 minutes from start to finish. That means after a long 12-hour shift or when you're in a rush to whip something up, you don't have to overthink it.
Of course, the first step is to prepare everything. Dice your onions, mince your garlic, clean your bell peppers, and get those spices out and ready.
Our favorite coconut oil of all time is this Organic Virgin Coconut Oil by Kirkland. Good thing we like it, because this one tub is probably gonna last us like an entire year. Really though.
We're also trying these Kirkland Organic Diced Tomatoes and they're pretty good! We get a whole case and are able to use them in so many different dishes - curry, soup, chili, etc.
In a large pan on medium heat, heat your oil. Then, sauté your onions and minced garlic until fragrant and the onions start to get translucent. Then, add your ground beef and let brown. Finally, add your diced tomatoes and spices and let that reduce.
While the stuffing reduces, halve your bell peppers and seed them. Make sure you're not removing too much of the top so the stuffing can stay contained.
Add the cooked quinoa to the ground beef mixture. Now that the stuffing is ready, give it a taste test to see if you need to add more salt or pepper! This is key to ensuring that your final dish is delicious and well-seasoned. I think next time, I'm going to add some black beans to the stuffing for some extra fiber and protein.
Next up: stuff those peppers! This is the best part, in my opinion, but can get messy. Pack as much stuffing as you possibly can into those halves. It's totally okay if you let them kind of overflow, too.
Cover the baking dish tightly with foil, bake, and unfold the deliciousness that lies beneath. Just look at that golden cheese!
Prep Time: 10 minutes
Cook time: 30 minutes
Makes: 3 servings
Ingredients:
3 large bell peppers, halved
1 cup quinoa
2 cups chicken/vegetable/beef stock
3 Tbsp coconut oil
4oz ground beef
1/2 cup onion, diced
2 cloves garlic, minced
1/2 can (14.5oz) diced tomatoes
1 tsp paprika
2 tsp cumin
1 tsp cayenne (omit if you don't do spicy!)
salt + pepper to taste
1/2 cup queso fresco
handful cilantro
Directions:
1. Make quinoa according to package instructions. (A good rule of thumb is 2 cups broth to 1 cup quinoa)
2. Preheat the oven to 400 degrees.
3. Dice the onions and mince the garlic.
4. In a large pan over medium heat, heat your oil. Then, add the onions and garlic and sauté for about 3 minutes. When the onions start to get barely translucent, add the ground beef. Let the beef brown.
5. Add cooked quinoa to ground beef mixture.
6. Add spices. Salt + pepper to taste. Let reduce.
7. Stuff bell peppers. Cover baking dish with foil and bake for 20 minutes.
9. Top with queso fresco and broil for 10 minutes.
10. Top with cilantro and fresh lime.
11. Enjoy!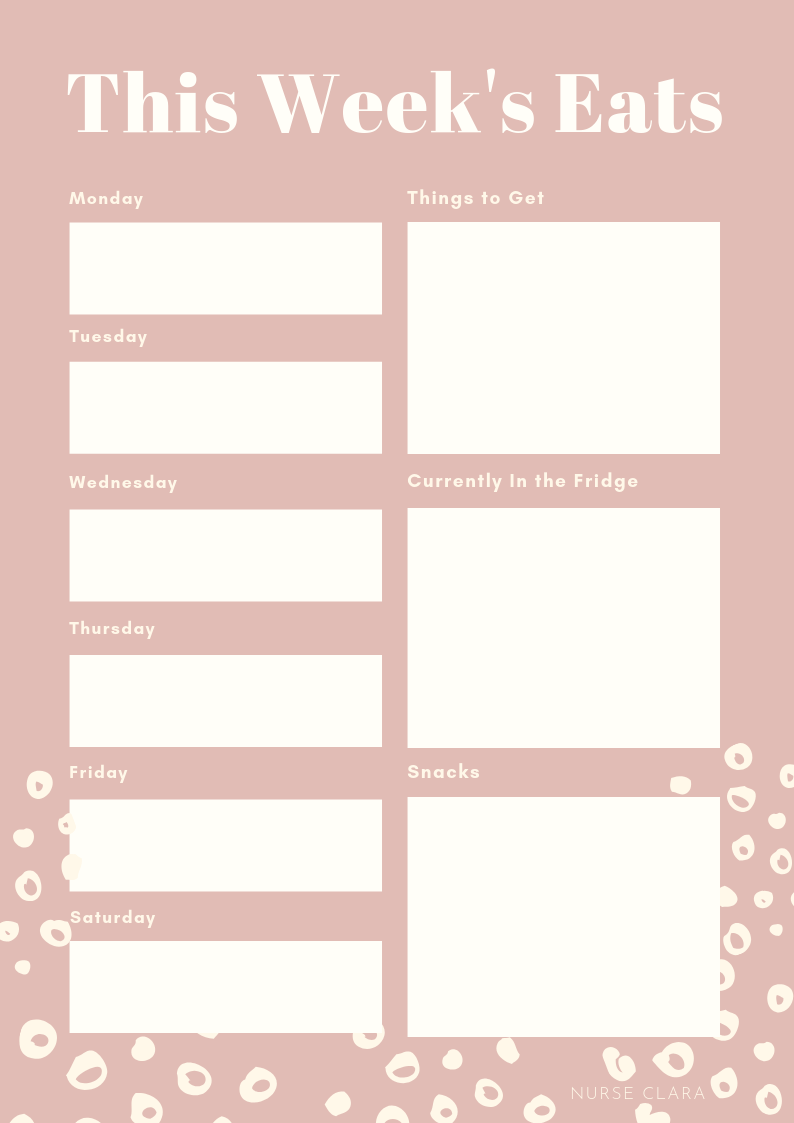 FILL OUT THE FORM BELOW TO GET YOUR FREE PRINTABLE WEEKLY MEAL PLANNER!