My Kinda KFC: Korean Fried Chicken
Today, I tried my hand at Korean Fried Chicken since we have about 8 million pounds of chicken breast in the freezer. That's what we get for living 5 minutes from a Costco. I actually had no expectations from this experiment, except that I wanted it to get me back in the mood to creating more recipes for you guys. But I impressed myself! This is a super easy recipe that you can easily follow at home. The only thing that you may not have is the Korean Chili Paste, or gochujang, which you can find at any Korean or Asian market near you. Some of you may be specific as to which brand of gochujang tastes the best, but honestly, it doesn't matter for this recipe! :)
It's been a long time coming, hasn't it? Between everything that's been going on, I had 0 time (and money) to get creative in the kitchen. Because let's be real: developing recipes takes a lot of time and money! It's simply all trial & error and hoping that your guesstimation of ingredients is good enough to make a delicious dish.
First step: combine the gochujang, honey, water, and apple cider vinegar until fully mixed! Set aside.
Heat the sauce in a small saucepan so that it reduces to a viscous consistency.
Dredging chicken is always a mess, but it's always worth it. Because you salt the chicken before dredging, you can choose to skip the salt + pepper in the flour mixture. However, I like to season each component of my dish, so I lightly seasoned the flour mixture, as well.
Peanut oil is our favorite frying oil: it's cheap, has a high smoke point, and it tastes good!
How delicious do these chicken tenders look!? Totally reminds me of that meme with the puppies though, hahaha. The panko adds an asian touch to the breading, which I love. I prefer a lighter fry batter over the typical American flour-y batter.
Honestly, I could've eaten these plain. That's the magic of seasoning your fry batter and meat itself, but this sauce is way too good to pass up. So let's toss it all together for the last step!
Ingredients:
1lb chicken tenders (or any form of chicken, wings would be sooo good!)
2 large eggs
1/2 cup all purpose flour
1/2 cup panko
2 Tablespoons gochujang
2 Tablespoons apple cider vinegar
4 Tablespoons water
3 Tablespoons honey
1 Tablespoon soy sauce
1 clove garlic, minced
1/2 teaspoon powdered ginger
Peanut oil for frying
Salt + Pepper
Peanuts for garnish
Sesame seeds for garnish
Green onions for garnish
Directions:
1. If your chicken is frozen, let thaw all the way. Rinse your chicken and pat dry. Sprinkle liberally with salt and set aside.
2. Heat up a dutch oven and fill with enough peanut oil to fully immerse your chicken. Or fill halfway for a shallow fry.
3. While your oil is heating up, whisk together the all purpose flour, panko, and salt + pepper.
4. In a separate bowl, whisk 2 eggs.
5. When the oil is slightly popping or reaches 350 degrees, let's get dredging! Dip your chicken in the eggs and coat as much of the chicken as you can. Then, dip into the flour/panko mixture. Slowly place the breaded chicken in the oil.
6. Let the chicken fry for about 7 minutes on each side if shallow frying, or around 10 minutes if deep frying, or until golden brown. Place finished chicken on a plate with paper towels or on a cooling rack.
7. While the chicken fries, let's make the sauce: combine gochujang, ACV, water, honey, soy sauce, minced garlic, and ginger.
8. Then, add to a small pan on low heat to reduce to a slightly thick consistency. (Enough to wipe a line through a spoon and the sauce stays separated.)
9. When the chicken is fried and the sauce is finished, add all your chicken into a large bowl, and pour the sauce over the chicken. Toss to cover.
10. Plate and garnish with crushed peanuts, sesame seeds and green onions. Enjoy!
And, voila! Super easy KFC that has a little kick to it, too! I hope you love it as much as Caleb and I did. I'm hoping to get in the kitchen a bit more now that things are settled and I have an income, so stay tuned! I know I still owe you guys a bulgogi recipe, after I made those bulgogi patty melts with sweet potato tempura fries. I didn't forget! ;)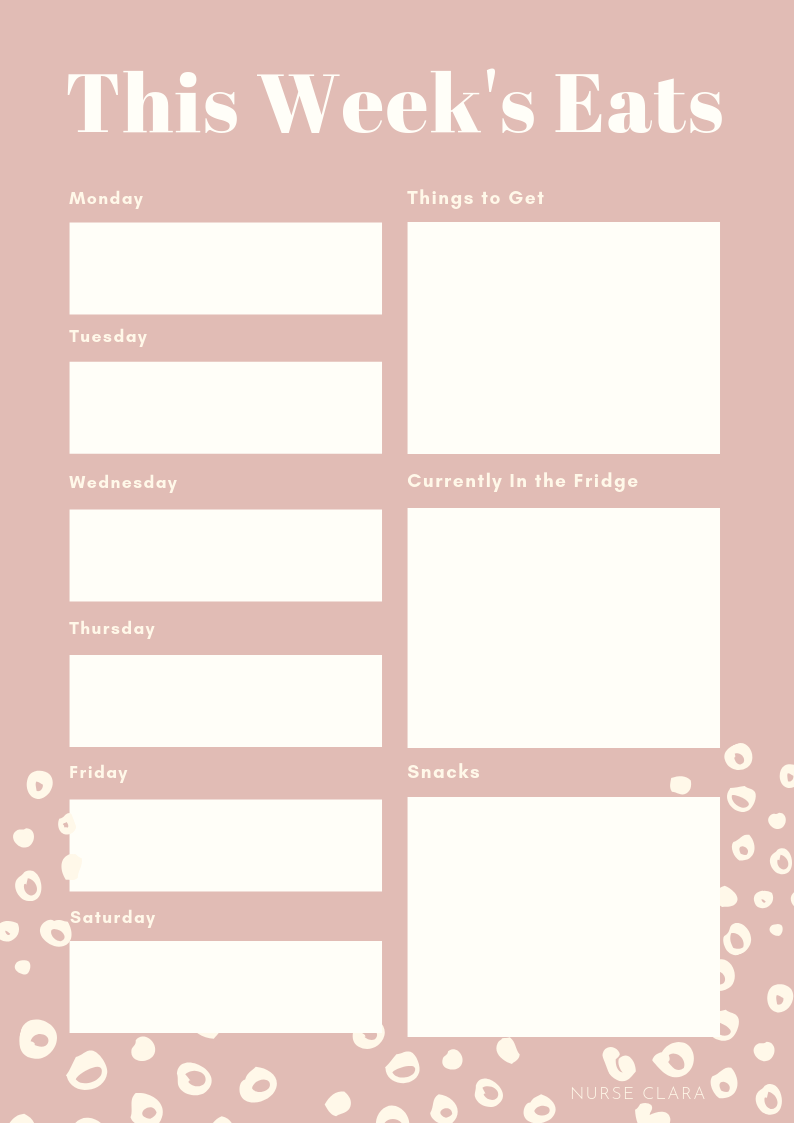 FILL OUT THE FORM BELOW TO GET YOUR FREE PRINTABLE WEEKLY MEAL PLANNER!